Judith Kasiama (She/Her)
Founder
Judy is an athlete, community activist, disruptor, and content creator who resides on the traditional, ancestral, and unceded Indigenous territories of the Musqueam, Squamish, and Tsleil-Waututh First Nations.
Through her work Judy highlights her experience as a black woman that skis, rides mountain bikes, hikes, camps, climbs, and explores. Judy's active participation in the outdoors brings to light the importance of representation. Through conversation and grace her work draws attention to underrepresented minorities by changing the narrative that people of colour are not active participants in the outdoors.

Zahra Abdullahi (She/Her)
Alberta Chapter Lead
Zahra is a Somali Canadian that resides on treaty 7 territory. She is an outdoor enthusiast, world traveler, runner, avid day hiker, and cross-country skier. She combines her passions whenever possible by running "destination races" or including outdoor adventures in every trip. She started embracing hiking, camping, and snowboarding once she moved to Calgary. Being so close to the mountains allowed her to rediscover her childhood love of the outdoors.
While volunteering as a mentor in her local Somali community she saw firsthand the importance of having a safe space to learn/try new activities and she is looking forward to creating that same space in the outdoors for other BIPOC in Alberta.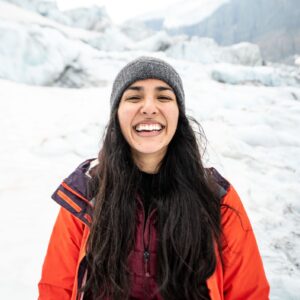 Shenaz Ahmed (She/Her)
Edmonton Chapter Lead
Shenaz
 is a Pakistani Canadian residing in Treaty 6 territory. She was first introduced to backcountry hiking and camping in 2016 through family friends who provided a safe space for her to learn the basics all while having fun! As her confidence in the outdoors grew, she eventually went on to hiking longer routes including the Annapurna Circuit in Nepal!
Shenaz
 is an outdoor enthusiast whether it's camping, hiking, cycling or walking her two dogs (Bandit and Mia) through the river valley! She also doesn't shy away from learning new activities such as swimming and cross country skiing. With CTT, she hopes to create a welcoming, fun and inclusive space for BIPOC folks to try new activities and continue to grow their skills.

Priya Moraes (She/Her)
Southern Ontario Chapter Lead
As a passionate ambassador for social change, Priya aims to use her life experiences, skills and knowledge to drive forward empowering initiatives in her community. Being a South Asian woman from Brampton who loves the outdoors, Priya has always been the odd one out on hiking, camping, and kayaking trips. She knows what it feels like to want to participate in something and feel intimidated by having less experience, and to want to give up. But the outdoors should be accessible to everyone. Priya felt there was a lack of community for Black, Indigenous, and racialized folks interested in the outdoors in Ontario, and is so happy to work with Colour the Trails to change that. As a chapter leader, she aspires to learn from our community and create activities and opportunities that align with our interests. She has a long way to go in her own knowledge of the outdoors, so she is excited to form partnerships with groups in Ontario to facilitate trips, and continue to develop her own skills and knowledge as we go.

Allison Seto (She/Her)
Photographer
Allison is a Chinese-Canadian photographer residing on Treaty 7 territory. She aims to use her photography to provide visibility to marginalized communities, especially in spaces that are predominantly occupied by white cis people. As somebody is outdoors-adjacent but not familiar with a lot of outdoor activities like camping, she has absolutely loved the atmosphere Colour the Trails has provided to try new things.
When not photographing, Allison enjoys bouldering, climbing, and skateboarding.

Jessica Kasiama (She/Her)
Writer in Residence
Jessica Kasiama is a Congolese writer, currently living in Toronto. In her writing, she is curious about themes of love and futurity. She finds solace in climbing trees, collecting pine cones, and gazing out on bodies of water.

Safder Raza (He/Him)
BC Trail Running Mentorship Lead
Safder (or Saf) is a first-generation immigrant from Pakistan. He has been running for ten years and trail running for about six, and is delighted to be able to share his passion for the outdoors with folks who have felt intimidated and/or excluded by these communities. Other than outdoorsy things, Saf also likes talking about his dog, social innovation, and web3.

Pavel (Pasha) Boiko (He/Him)
Project Manager/Photographer
Pasha moved from Belarus to Canada at the age of 28, and currently residing on the traditional, ancestral, and unceded Indigenous territories of the Musqueam, Squamish, and Tsleil-Waututh First Nations. While he had some experience hiking, camping, and doing outdoorsy stuff on the mostly flat land of Belarus, the scale of landscapes and activities Canada offered was beyond his imagination. He has since been trying to escape the city for nature at every possibility.
Pasha does a lot of behind-the-scenes work for Colour the Trails (IT, coordination, accounting, communications), but also joins many in-person events as a photographer.