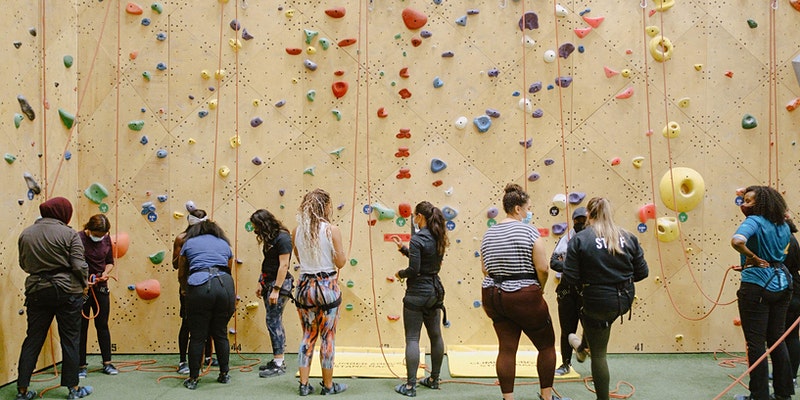 *PAST EVENT* (AB) 8 week Indoor Climbing Progression Course
We ask our allies to allow BIPOC members only to register for this event. Thank you!
In this 8-week class, Calgary Climbing Center staff will teach us where, how and why to apply various climbing techniques as well as skills such as resting on the wall, back stepping, foot placements and body positioning. You will be amazed at how quickly you can improve with a few helpful pointers.
8 Session technique course (bi-weekly sessions) available for anyone who took the First Step lesson with us on Nov 25th or knows how to belay already. Must pass belay check prior to the day of the course.
If you already know how to belay, you just need to show CCC staff by doing a belay check when you come in. It's $5, (or free if you get a membership) and if you pass, it will be valid at all CCC locations. You don't need to reserve ahead of time, just let the staff know upon arrival that you require a belay check and they'll get to you as soon as possible. And Yes, you need a partner for your check…. someone has to climb.
Friday evenings 6-8pm at the Hanger location
A mix of bouldering and top rope climbing and technique (similar to women on walls or building the basics but drawn out over the indoor climbing season)
Cost for this course would be $160 for the 8 sessions (rentals included)
Would run the following dates:
January 14,January 28,February 11, February 25, March 11, March 25, April 8, April 22
PROOF OF FULL VACCINATION REQUIRED TO ATTEND
Experience Level – Must know how to belay
Gear will be provided if needed or bring your own gear if you have any.
Equipment required: Harness, Belay device, Rock Shoes.
Snacks and water are recommended.
If you need a ride to the event please contact [email protected] Masking and full vaccination required for carpool.
This event will take place on the traditional territories of the Blackfoot Confederacy (Siksika, Kainai, Piikani), the Tsuut'ina, the Îyâxe Nakoda Nations, the Métis Nation (Region 3).
Become a member and join us on our next adventure.
Learn More