Colour the Trails builds community through accessible outdoor events and mentorship. Our advocacy initiatives aim to raise awareness and dismantle barriers that limit BIPoC and 2SLGBTQIA+ participation in outdoor activities. Our hope is that Colour the Trails will be a catalyst for change in the outdoors industry, helping to make it a more inclusive and welcoming space for all.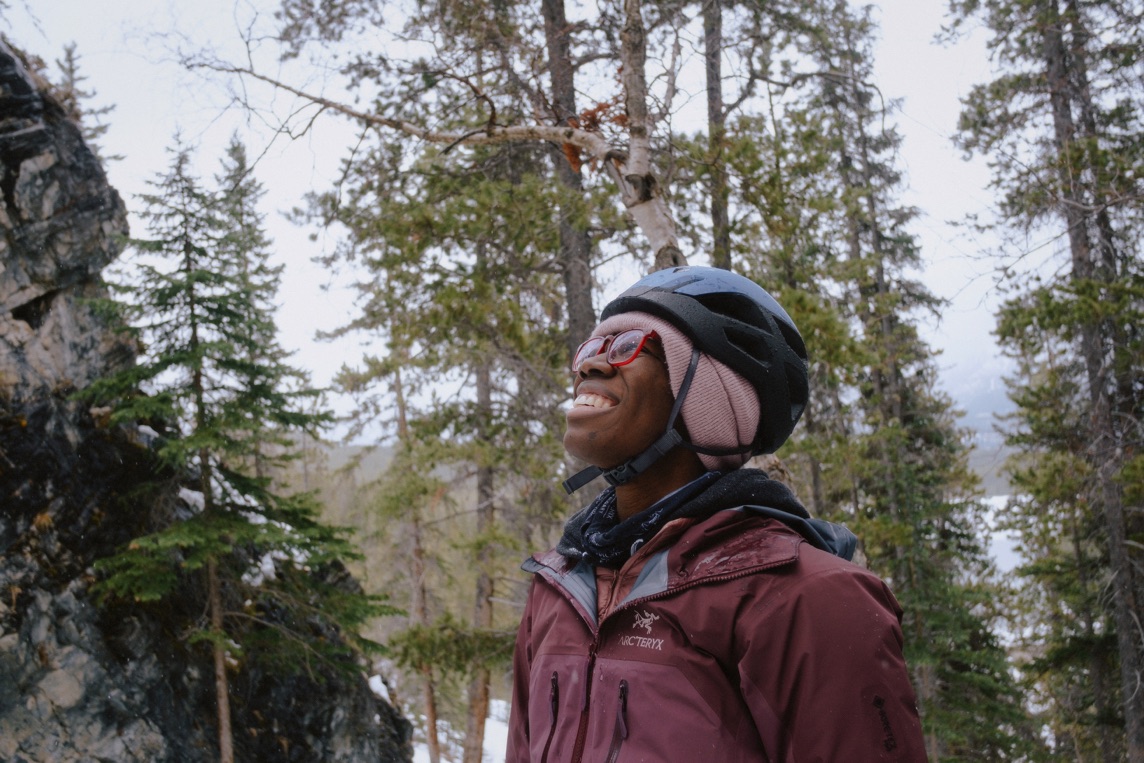 Events
We offer community events and mentorship programs year-round through our chapters in AB, BC, ON and QC, connecting participants with nature via land, water and snow. View Events.
Land
Hiking, Camping, Backcountry, Mountaineering (AB, BC)
Birdwatching (BC, ON)
Climbing Mentorships (ON, BC, AB)
Mountain Biking Mentorship (BC)
One-off events (i.e. Rollerblading, QC)
Water 
Kayaking, Paddleboarding, Windsurfing, Rowing (BC, ON)

Annual Sailing at Princess Louisa Inlet
Kayaking Mentorships coming soon to BC, ON
Snow
Skiing, Snowboarding, Cross Country Skiing, Snowshoeing (AB, BC)

Ice Climbing (AB, BC, ON)
Level Ups in Ski and Snowboard (BC)
Annual Colour the Slopes Summit held

in Revelstoke B.C.

Programming coming to ON in 2024.
Colour the Sails coming soon!
What is the Colour the Slopes Summit?
The inaugural Colour the Slopes Summit took place in December 2022 and we are excited to launch the 2023 edition. For four days, participants gather to develop or hone their outdoor skills, try new activities, and celebrate the BIPOC community.
Media
Through our media initiatives, our goal is to bring visual representation to the varying intersectional identities through meaningful conversations surrounding outdoor adventure, sports and recreation, and also conservation.
Film: I Am Because You Are

Discover how far we can go together. Our first short film,

I Am Because You Are

, had its World Premiere at the 2023 Vancouver International Mountain Film Festival (VIMFF)! "I Am Because You Are" follows the journey of six CTT members as they embark on their first mountaineering trip in the beautiful and rugged Bugaboos.

Like Me – Outdoor Edition Film Festival

Like Me – Outdoor Edition

is a five-part film series focused on stories of communities that have been intentionally and historically excluded from outdoor media and storytelling. Our first offering was the "Black Like Me" film festival, and we are currently looking for support to continue the series:
We are always working to raise awareness, build community and create change. Sign up for our newsletter to see what we create next.