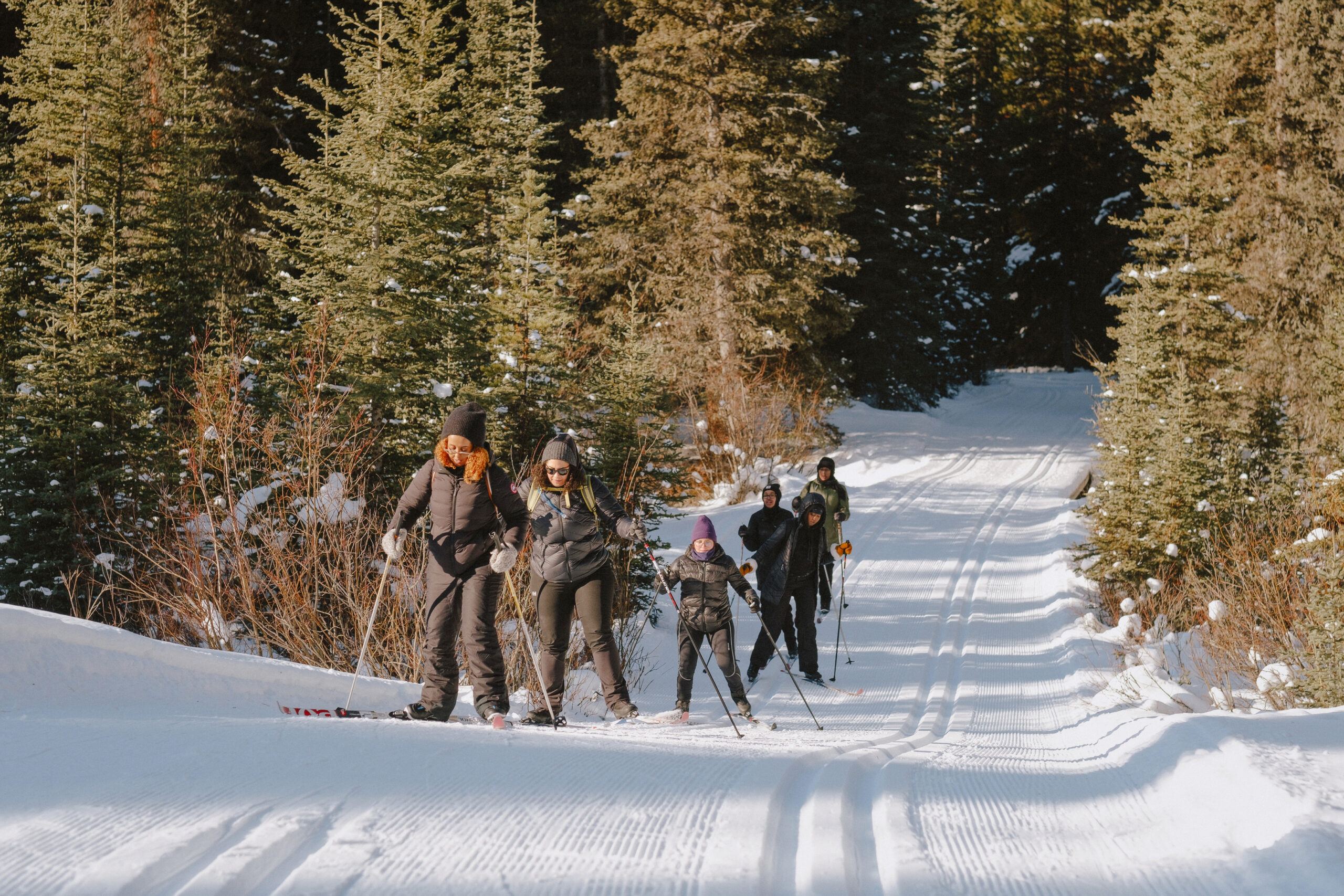 *PAST EVENT* (AB) Basic Hills Cross-Country Ski Lesson
This event is supported by Parks Canada.
We ask our allies to allow BIPOC members to register for this event. Thank you!
This 5 hour lesson will help you gain confidence cross-country skiing on hilly trails this season. Join us on rolling terrain in Kananaskis and learn how to move uphill, turn, glide downhill and slow down. There will be plenty of time to practice your new skills in this 5-hour session.
Prerequisite: Beginner Cross-Country Ski Lesson or equivalent experience.
PROOF OF FULL VACCINATION REQUIRED TO ATTEND
If you require a ride to the event location please email [email protected]
Cost: $75 per person
Included: instructor and cost of ski gear
Not included: parking fee in Kananaskis
Vehicles parked at provincial park and public land sites in Kananaskis Country and the Bow Valley need a Conservation Pass.
Buy your pass online and register your license plate. Passes can also be purchased in-person or by using Wi-Fi at Kananaskis Visitor Information Centers (Barrier, Elbow and Peter Lougheed) and the Canmore Nordic Centre Day Lodge.
IMPORTANT:
With the increased spread of Omicron and in accordance with Provincial Health orders, all participants must be double vaccinated and show proof of vaccination in order to participate in our events so we can do our part to keep everyone as safe as possible and allow us to continue to hold events.
Participants must also wear mask when indoors, at all times and outdoors when we cannot stay 6 ft or more a part.
If you are feeling any flu-like symptoms before the event, please stay home.
—————————
Photo & Video Release Consent:
By purchasing a ticket you grant permission for Colour the Trails and sponsors to use any portion of the photos or videos from this event that have been taken by Colour the Trails videographers and photographers for the purpose of sharing experiences with the community and encouraging future participation in events which can include but is not limited to, print or digital versions, social media and websites without any more compensation or recognition given. Colour the Trails will not use the photographs in a manner that would exploit or cause malicious representation toward you.
Please contact [email protected] BEFORE the event if you do not want to be photographed or on video during an event.
Become a member and join us on our next adventure.
Learn More