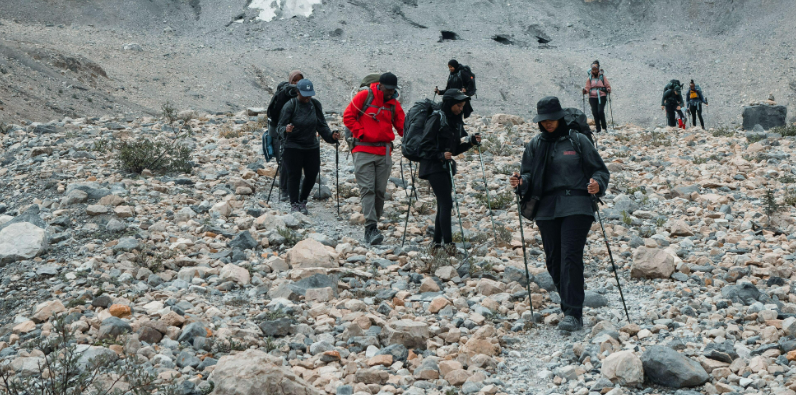 *PAST EVENT* (AB) Intro to Backcountry Camping
BIPOC of Alberta , let's connect!
We would like to once again extend our time together. With the help of Get Outside Adventures we will kick off summer camping season with intro to Backcountry camping.
We ask our allies to allow BIPOC members only to register for this event. Thank you!
Gear
We would provide tents, kitchen equipment, safety equipment, and most food (Sat dinner, Sun breakfast/lunch),we'll plan for vegetarian meals respecting any dietary restrictions/preferences/allergies. We'd like to know about dietary restrictions as soon as practical, but we'd need to know for sure by May 23 in order to adapt the menu to any specifics. Participants should bring their own Saturday lunch.
Our tents are shared two person tents. Ideally people from a covid cohort/bubble would be sharing, but I'm also aware that some people may be more comfortable sharing a tent with certain other folks. Tent assignments would be finalized at the pre-trip meeting.
For sleeping bags, sleeping pads, and backpacks try to source from friends/family, source used gear via facebook marketplace/ switching gear Calgary , but if you are unable to we will try to source these items through our network ( indicate in the questionnaire). Rental is also available from the U of C Outdoor Centre using their Online Gear Rental page. Reserve early to ensure availability (pay attention to cancellation policies). Please do not let gear be a barrier for registering for this event.
Pre-trip Meeting Online Wed June 8th 7-8:30 pm
Pricing
The standard rate for this course is $395 per person, but with the help of Get Outside Adventures we are able to offer it for $190 pp.
Additional Accommodations
If any participant needs any specific accommodations to have a good day out, please let us know. Planning breaks around prayer times, ensuring communication is appropriate, meeting dietary restrictions/preferences, or enhanced covid protocols are all examples of common accommodations.
This event has very limited spots so please register ASAP.
Here are links to the waiver and health declaration.
Location:
Mount Rundle – Sp6 – Backcountry Zone
This large campground is situated within the mixed forest of the Spray Valley. Its proximity to the Town of Banff and nearby beginner level trails make Sp6 an ideal introductory backcountry camping experience. Fires are permitted in designated fire rings.
Please note: each participant will be responsible for getting to this event. You can organize carpooling through our Private Facebook Group: Colour the Trails Alberta | Facebook. If you are carpooling with someone, please make sure to chip in for gas/parking.
This event will take place the traditional territories of the Blackfoot Confederacy (Siksika, Kainai, Piikani), the Tsuut'ina, and Kyunaxa Nations.
——————–
IMPORTANT:
All participants must be double vaccinated and show proof of vaccination in order to participate in this event.
If you are feeling any flu-like symptoms or symptoms associated to COVID-19, have had COVID-19 in the past 14 days, have been identified by Public Health as a close contact of someone with Covid-19 or have been told to isolate by Public Health before the event, please let us know and stay home.
______________________
Photo & Video Release Consent:
By purchasing a ticket you grant permission for Colour the Trails and sponsors to use any portion of the photos or videos from this event that have been taken by Colour the Trails videographers and photographers for the purpose of sharing experiences with the community and encouraging future participation in events which can include but is not limited to, print or digital versions, social media and websites without any more compensation or recognition given. Colour the Trails will not use the photographs in a manner that would exploit or cause malicious representation toward you.
Please contact [email protected] BEFORE the event if you do not want to be photographed or on video during an event.
Become a member and join us on our next adventure.
Learn More