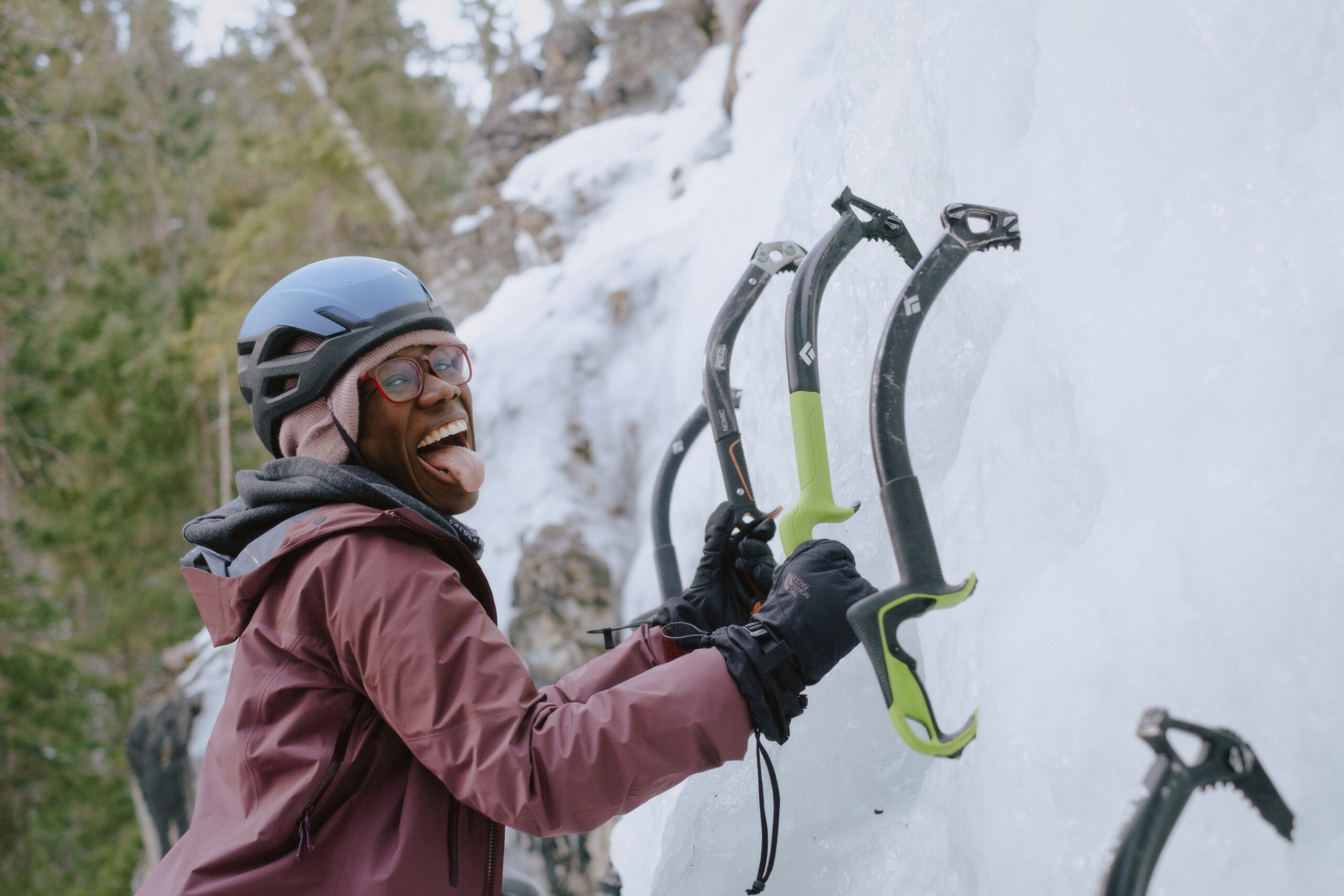 *PAST EVENT* (AB) Intro to Ice Climbing – Edmonton
Sponsored by Parks Canada. Event supported by ACC Edmonton and Arc'teryx Alberta.
We love our allies, but due to very limited space, this event is for BIPoC only.
It may be cold, but it will be fun!
YEG ACC ICE WALL No prerequisites are required. All rental gear will be provided (boots, crampons, ice tools, harness, and helmet). Instruction will be given on the equipment, how to belay and basic ice climbing technique. This course is 1.5 hr long plus an additional half an hour before the start of the course to get your rental gear. MUST be over the age of 14.
Each climber must have a valid filled out waiver to climb.
PLEASE arrive 30 mins before course to sort out rental gear.
Alpine Club of Canada Edmonton Section's Ice wall. Built to promote the sport of ice climbing to the Edmonton Area and service existing local ice climbers. We'd plan to have one instructor + 1 ACC volunteer. We'll have to have two separate groups, one from 10:00 am -11:30 am and another one from 11:30 am-1:00 pm.
Very important information:
Preparation for this event is key. Please make sure you have appropriate clothing and mindset to stay warm and positive in the cold. We ask you to make sure you are able to join as the space is very limited. At the same time, we encourage you to try something new.
Due to the specifics of the weather conditions required, the event may be canceled last moment (refunds will be issued).
Clothing:
Bring a hard-shell jacket (Goretex style) and several layers (minimum 3)of insulation from long underwear to your puffiest puffy jacket (Down or Synthetic). Wool/fleece sweaters are a good mid-layer. You will be doing a lot of moving (cardio) then stopping so layering is key. Toque or Balaclava is essential.
Gloves:
Bring at least 2 pairs of winter gloves – One pair can be mitts. If it's milder, you can use one thinner pair of gloves (like garden gloves or "work gloves"). If you get cold easily, consider chemical hand-warming packets.
Socks:
"Ski" socks are the best, bulky wool socks bunch up and actually make your feet colder
Food:
Plenty of rich nutritious food! You will burn lots of calories just staying warm. An insulated Thermos (or even two!) of your favorite hot beverage or soup is STRONGLY recommended. You likely won't be motivated to drink icy, cold water. Hot drinks will help keep you warm and happy!!!
Climbing gear:
Use of all climbing equipment is provided at no extra charge.
** Please arrive on time, and respect time, effort and work that is put into organizing this event.
IMPORTANT:
With the increased spread of Omicron and in accordance with Provincial Health orders, all participants must be double vaccinated and show proof of vaccination in order to participate in our events so we can do our part to keep everyone as safe as possible and allow us to continue to hold events.
Participants must also wear mask when indoors, at all times and outdoors when we cannot stay 6 ft or more a part.
If you are feeling any flu-like symptoms before the event, please stay home.
—————————
Photo & Video Release Consent:
By purchasing a ticket you grant permission for Colour the Trails and sponsors to use any portion of the photos or videos from this event that have been taken by Colour the Trails videographers and photographers for the purpose of sharing experiences with the community and encouraging future participation in events which can include but is not limited to, print or digital versions, social media and websites without any more compensation or recognition given. Colour the Trails will not use the photographs in a manner that would exploit or cause malicious representation toward you.
Please contact [email protected] BEFORE the event if you do not wish to be photographed or on video during an event.
March 5, 2022
10am-1130am or 1130am-1pm
YEG ACC Ice Wall
9613 96 Avenue NW, Edmonton, AB, T6C 2B3
Become a member and join us on our next adventure.
Learn More