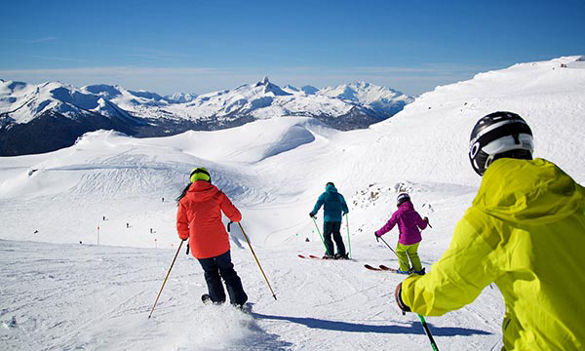 *PAST EVENT* (BC) Intermediate Ski Lesson – Feb 13, 2022 in Whistler
Supported by Parks Canada and Whistler Blackcomb.
We ask our allies to allow BIPoC members to register for this event. Thank you!
If you've already attended a Whistler event this month, please give others the opportunity to sign up. We will refund tickets for those that have signed up for multiple Whistler events.
Take your skills to the next level with this intermediate ski lesson in Whistler! This intermediate ski lesson in Whistler will help you improve your skiing skills with an experienced instructor and in a small group setting.
Suitable for skiers who are currently riding BLUE runs, consistently. Ages 18+. If you are comfortable riding black runs or have only tried a blue run once, please DO NOT register for this event and stay tuned for a future session aimed at your skill level. We'd like to have the group at a similar ability level to maximize everyone's learning.
Please note: each participant will be responsible for getting to Whistler. You can organize carpooling through our Private Facebook Group. There are also shuttles/buses that you can take from Vancouver to Whistler. We've reduced the cost of this event to account for additional transportation costs.
—————————-
IMPORTANT:
With the increased spread of Omicron and in accordance with Provincial Health orders, all participants must be double vaccinated and show proof of vaccination in order to participate in our events so we can do our part to keep everyone as safe as possible and allow us to continue to hold events.
Participants must also wear mask when indoors, at all times and outdoors when we cannot stay 6 ft or more apart.
If you are feeling any flu-like symptoms before the event, please stay home.
—————————
Registration includes:
Lift pass

Skis, boots, poles and helmet rental

Lesson + instructor (1:5)
Lesson Duration: ~5.5 hours (9:30am-3pm)
There will be a lunch break where you can purchase lunch at a local restaurant or sit outside with your own packed lunch.
Please note: You will need to pay for parking if you drive, and if you need a locker that will be an additional cost.
What you'll need to bring/wear:
Face mask for when you're indoors and in situations where you can't be 6ft apart

Proof of vaccination and ID (double vaccination required)

Warm clothes including moisture wicking base layers, mid layers to trap body heat, and water-resistant outerwear, warm calf-high socks, and gloves or mitts

Goggles or sunglasses

Sunscreen is recommended, even on cloudy days
Information about Whistler's COVID-19 policies: https://www.whistlerblackcomb.com/explore-the-resort/about-the-resort/winter-experience.aspx
———–
Photo & Video Release Consent:
By purchasing a ticket you grant permission for Colour the Trails and sponsors to use any portion of the photos or videos from this event that have been taken by Colour the Trails videographers and photographers for the purpose of sharing experiences with the community and encouraging future participation in events which can include but is not limited to, print or digital versions, social media and websites without any more compensation or recognition given. Colour the Trails will not use the photographs in a manner that would exploit or cause malicious representation toward you.
Please contact [email protected] BEFORE the event if you do not wish to be photographed or on video during an event.
February 13, 2022
Meet at 8:45AM, Lesson: 930AM-3PM
Whistler Village Gondola
Whistler Village Gondola, Skiers Plaza, Whistler, BC, V0N 1B4
Become a member and join us on our next adventure.
Learn More