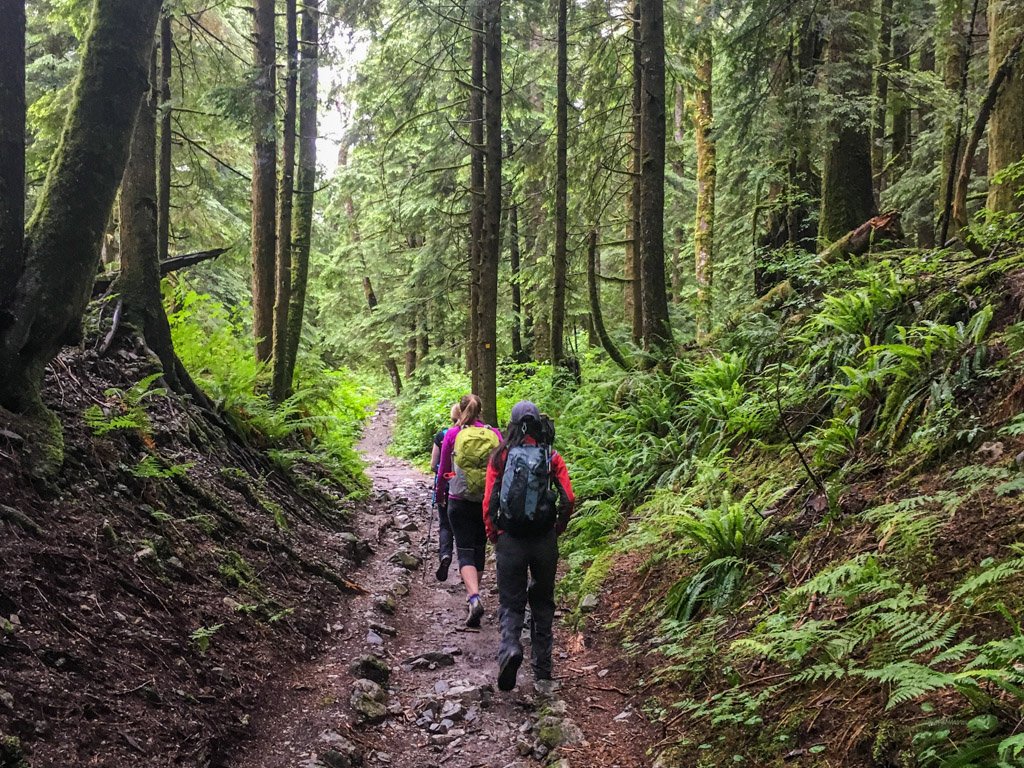 *PAST EVENT* (BC) Leave No Trace Awareness Workshop
This event is supported by Parks Canada.
THIS EVENT IS NOW OPEN TO ALLIES AND ALL BIPOC!
Are you concerned about keeping the wilderness wild?
You've heard the saying "pack it in, pack it out", but did you know that there are many other steps we can take to help protect the natural places we love?
The US Forest Service developed the Seven Principles of Leave No Trace in the 1960s. The idea behind the principles is to leave nature as unchanged by our presence as possible, so that future generations can enjoy it too. In essence, the purpose of Leave No Trace is to keep the wilderness wild.
Taryn Eyton from Happiest Outdoors will be leading the workshop. Taryn is a Leave No Trace Master Educator and has been teaching Leave No Trace workshops since 2006. She runs the adventure travel website, Happiest Outdoors.
Where is the Workshop
Pacific Spirit Regional Park from 1pm-5pm, rain or shine.
After the event, we'll have time to get changed (if needed) and head over to Patagonia Vancouver at 6pm for some beverages and to review gear/equipment that are useful for hiking in different conditions. There will be an opportunity to purchase gear during this afterhours store visit too.
IMPORTANT:
With the increased spread of Omicron and in accordance with Provincial Health orders, all participants must be double vaccinated and show proof of vaccination in order to participate in our events so we can do our part to keep everyone as safe as possible and allow us to continue to hold events.
Participants must also wear mask when indoors, at all times and outdoors when we cannot stay 6 ft or more a part.
If you are feeling any flu-like symptoms before the event, please stay home.
You Will Learn
The Seven Principles of Leave No Trace and how to apply them when you hike, camp, or spend time outdoors

Specific skills for pre-trip planning, trail use, going to the bathroom, coexisting with wildlife, and much more

How to help your friends and other outdoorspeople learn about Leave No Trace

How to advocate for Leave No Trace on social media
Who is this Workshop For
This event is for all BIPoC and allies looking to learn more about protecting and respecting nature as we enjoy it. This workshop is open to all experience levels since both beginners and experienced hikers can learn more about Leave No Trace and how to help others learn too.
The Workshop Hike
The Leave No Trace Awareness Workshop will take place on a small group hike in Pacific Spirit Regional Park. Our destination will depend on weather, trail conditions and group fitness levels.
All hikes will have an easy or moderate rating. However, we will be hiking on trails that can be rooty, rocky and uneven. We may encounter hills. All hikes are at a relaxed pace with many stops to learn about Leave No Trace.
You will learn as a group through informal dialogue and several interactive activities. There will also be lots of time for questions and discussion.
What to Bring
Workshops take place rain or shine. Please bring rain gear. Since the workshop will involve several stops, please bring a warm layer to put on during breaks. Bring a foam bum pad to sit on if you have one. Pack water, lunch, and some snacks.
Additional Accommodations: If any participant needs any specific accommodations to have a good day out, please let us know so we can communicate it to our guide.
——————-
Photo & Video Release Consent:
By purchasing a ticket you grant permission for Colour the Trails and sponsors to use any portion of the photos or videos from this event that have been taken by Colour the Trails videographers and photographers for the purpose of sharing experiences with the community and encouraging future participation in events which can include but is not limited to, print or digital versions, social media and websites without any more compensation or recognition given. Colour the Trails will not use the photographs in a manner that would exploit or cause malicious representation toward you.
Please contact [email protected] BEFORE the event if you do not want to be photographed or on video during an event.
Become a member and join us on our next adventure.
Learn More