Ontario Event
(ON) Intro to Ice Climbing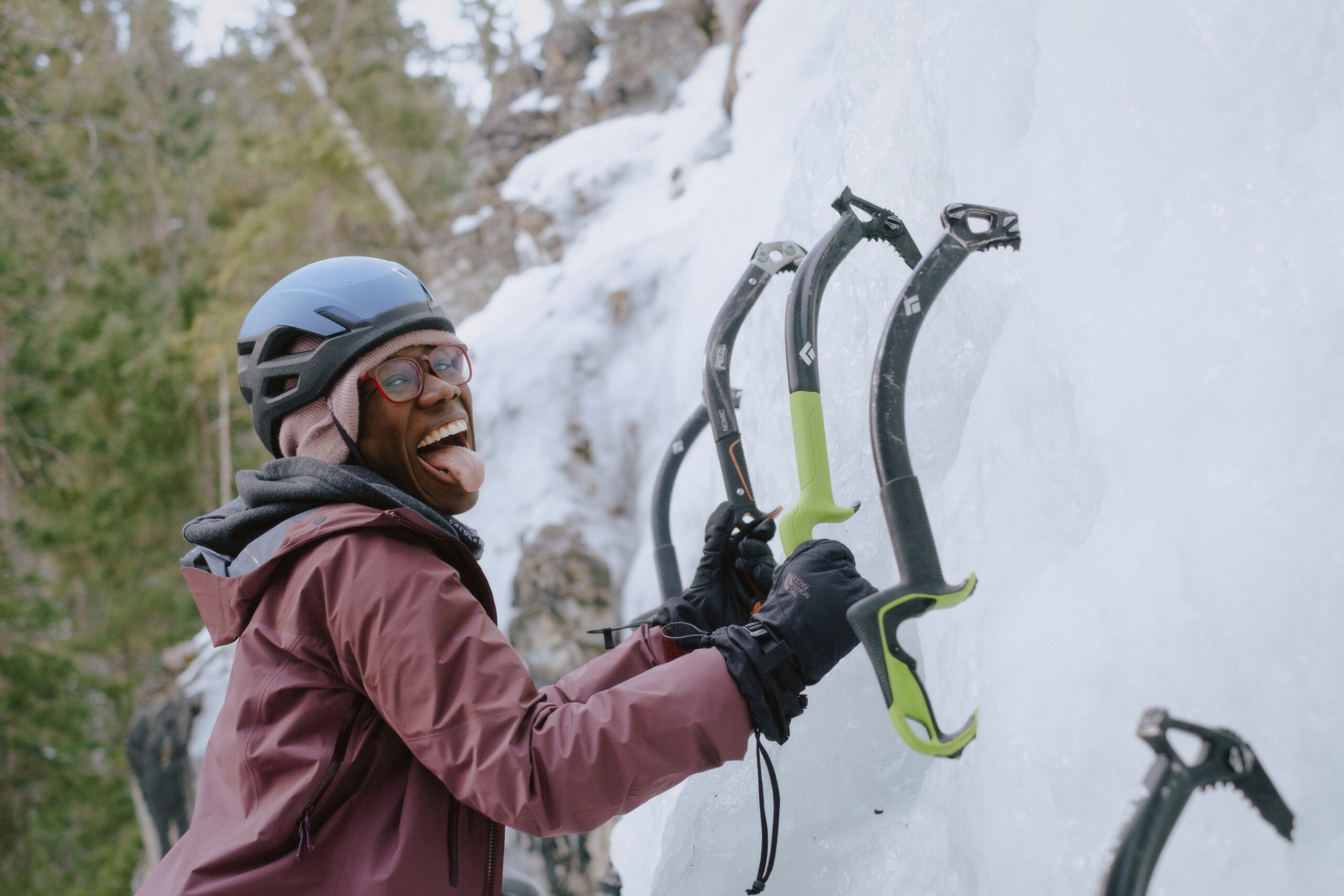 Sunday, Feb 26, 2023
9.30am-4.00pm
24 Henderson Street Elora, ON N0B 1S0
Cost: 125+tax
no experience required, beginner
Register
Event Details
Colour the Trails is working with OneAxe Pursuits to host a community intro to ice climbing session! Normally at a cost of $350 + HST, we are partnering with Arc'teryx and Parks Canada to offer this event at a lowered cost of $125+tax.
We love our allies, but due to very limited space, this event is for BIPoC only. 
What to Expect:
Hack frozen waterfalls. You don't have to go to the Khumbu Icefall on Everest for some excellent ice climbing. Swing your ice axes and create your own route. It is an especially empowering feeling to reach the top of a frozen waterfall. No one said ice climbing is easy. But who wanted easy anyway? This program is suitable for complete beginners and indoor gym climbers. All equipment is included.
Schedule:
Arrive 9.30am to figure out gear rental
10am-12pm: Belaying Training and Safety: Instruction will be given on the equipment, how to belay and basic ice climbing technique
12pm – 4pm: Ice Climbing with 2 instructors available for 12 participants
The following equipment will be available at no extra charge: Helmet, harness, ice climbing boots, crampons, and ice axes. PLEASE arrive 30 mins before the course to sort out rental gear.
Participant Considerations:
Preparation for this event is key. Please make sure you have appropriate clothing and mindset to stay warm and positive in the cold. We ask you to make sure you are able to join as the space is very limited. At the same time, we encourage you to try something new.
● A moderate activity level is required
● Our harnesses fit up to 52 inches
● Helmet circumference fits 19 to 24 inches
● The min boot size is W4.5 and max boot size is M13.5 (you can bring your own boots
or use ski boots if you are out of this range)
● If you have any health concerns, please consult a physician
● Due to the specifics of the weather conditions required, the event may be canceled last moment (refunds will be issued).
● MUST be over the age of 14
What to Bring:
Wear weather-appropriate clothing you are not worried about getting dirty or ripped.
Outer Layers:
A warm, insulated jacket for belaying.

A lighter insulated jacket for climbing (ideally waterproof, hardshell/Goretex).

At least two pairs of winter gloves or mitts (as they may get wet). One pair can be mitts. If it's milder, you can use one thinner pair of gloves (like garden gloves or "work gloves"). If you get cold easily, consider chemical hand-warming packets.

Toque without pom poms or Balaclava (to wear under the helmet) – essential.
Inner Layers:
Quick-dry clothing (polyester, nylon or wool)

Warm layers (i.e. wool/fleece sweater)
You will be doing a lot of moving (cardio) then stopping so layering is key. Aim for a minimum of 3 layers from long underwear to wool sweater to jacket to take on and off.
Footwear:
Hiking or ski boots ( in case of sizing issues with available ice climbing boots)

"Ski" socks are the best, bulky wool socks bunch up and actually make your feet colder

Spare pair of wool or ski socks
Food:
Plenty of rich nutritious food! You will burn lots of calories just to stay warm. An insulated Thermos (or even two!) of your favorite hot beverage or soup is STRONGLY recommended. You likely won't be motivated to drink icy, cold water. Hot drinks will help keep you warm and happy!!!
Each climber must have a valid filled-out waiver to climb.
** Please arrive on time, and respect time, effort and work that is put into organizing this event.
—————————
Photo & Video Release Consent:
By purchasing a ticket you grant permission for Colour the Trails and sponsors to use any portion of the photos or videos from this event that have been taken by Colour the Trails videographers and photographers for the purpose of sharing experiences with the community and encouraging future participation in events which can include but is not limited to, print or digital versions, social media and websites without any more compensation or recognition given. Colour the Trails will not use the photographs in a manner that would exploit or cause malicious representation toward you.
Please contact [email protected] BEFORE the event if you do not wish to be photographed or on video during an event.
CTT & LGBTQIA2S+ Inclusion:
Colour the Trails is committed to creating a welcoming space for LGBTQIA2S+ individuals. Participants and organizers will introduce ourselves using our preferred pronouns, if comfortable, at the start of each event to ensure participants are all feeling welcome and seen. Please ensure that you use other participants' preferred pronouns. We will have a 2 warning policy for any disrespect of participants' gender identities or sexualities. Thank you in advance for making CTT a welcoming community!