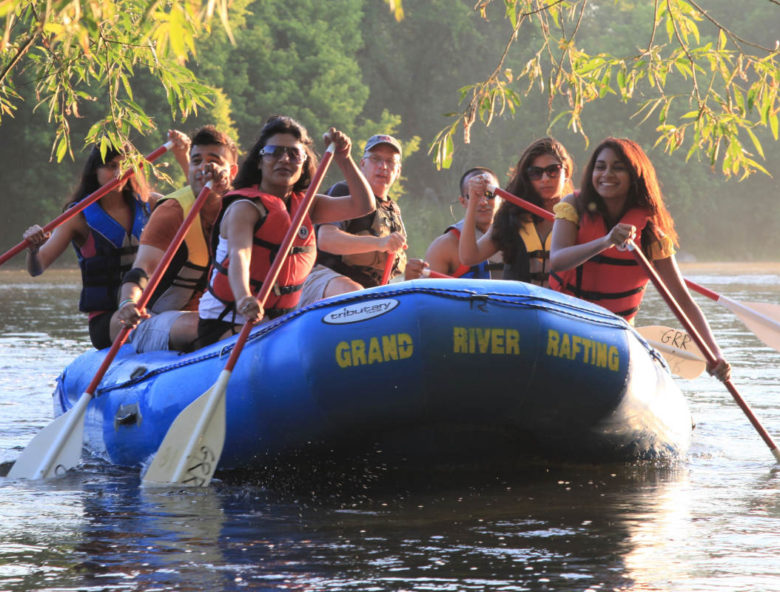 *Past Event* (ON) Intro to Rafting
Enjoy the views and relax amongst the waves as you try rafting with Grand River Rafting.
Due to limited spots, we ask our allies to please let BIPOC folks register for this event. Thank you!
Date: Saturday June 25th
Location: 140 West River Road S, Brant, ON (shuttle pick-up). Rafting between Five Oaks and Paris
We acknowledge that we will raft and connect on the unceded territory and traditional waters of the Six Nations of the Grand River: the Onondowahgah (Seneca), Guyohkohnyoh (Cayuga), Onundagaono (Onondaga), Onayotekaono (Oneida), Kanienkahagen (Mohawk), Ska-Ruh-Reh (Tuscarora) Nations.
Time: Please arrive by 10:30am for check-in. The shuttle to the start of our route leaves at 11am sharp.
11:30 get on the river
2:30 Off the river (with no stops)
4pm Off the river (if we choose to picnic mid-way through the route).
This is an 8 km route between Five Oaks and Paris which will be completed in a minimum of 3 hours. The shallowness (1 meter depth) and the slowness of the Grand River offers a safe experience for beginners to try their hand at paddling some easy currents and calm pools, and even a bit of splash! The river often warms up to 20C by mid-May because of the 1 meter depth.
Paddling through this forest setting offers the opportunity to see birds, fish, reptiles and animals… but there is nothing dangerous. There is a picnic area along the way, fresh water springs to drink from and an old mine from the year 1830.
Requirements:
18 years or older

No experience with rafting or no lesson taken, and still very new to the sport

Mask required on shuttles
——————
What's Included in Registration:
Professional River Guide to OPHEA standards

3 hour rafting trip

Use of raft, paddle and lifejacket for duration of lesson
What to Bring/Wear:
Clothes you don't mind getting wet (in case of splash)
Swimsuit (optional)
Sunscreen, sunglasses, hat (optional)
Sandals or flipflops that you don't mind getting wet
Picnic lunch
2 L of water
Please check the weather before the event and dress accordingly! This event will be subject to rescheduling based on potentially dangerous wind or weather conditions.
Please note: each participant will be responsible for getting to this event. Please plan accordingly so you arrive before the event start time. You can also organize carpooling through our Private Facebook Group. If you are carpooling with someone, please make sure to chip in for gas/parking.
——————-
Colour the Trails is committed to creating a welcoming space for LGBTQIA2S+ individuals. Organizers and participants will introduce ourselves using our preferred pronouns (when comfortable) at the start of the event to ensure participants are all feeling welcome and seen. Please ensure that you use other participants' preferred pronouns. Thank you in advance for making CTT a welcoming community!
IMPORTANT:
If you are feeling any flu-like symptoms or symptoms associated to COVID-19 before the event, have had COVID-19 in the past 14 days, have been identified by Public Health as a close contact of someone with COVID-19 or have been told to isolate by Public Health, please let us know and stay home. Thank you!
——————-
Photo & Video Release Consent:
By purchasing a ticket you grant permission for Colour the Trails and sponsors to use any portion of the photos or videos from this event that have been taken by Colour the Trails videographers and photographers for the purpose of sharing experiences with the community and encouraging future participation in events which can include but is not limited to, print or digital versions, social media and websites without any more compensation or recognition given. Colour the Trails will not use the photographs in a manner that would exploit or cause malicious representation toward you.
Please contact [email protected] BEFORE the event if you do not want to be photographed or on video during an event.
Become a member and join us on our next adventure.
Learn More