Like Me – Outdoor Edition 2022
For the 3rd year, we kick off Black History Month with "Black Like Me – Outdoor Edition"  a series of 11 short films, 1 hour 12 minutes in total duration. The screenings start on February 8. Films will be available for your viewing till March 8. 
If you are a BIPOC experiencing financial difficulties – do not hesitate to reach out for an access code through our contact form.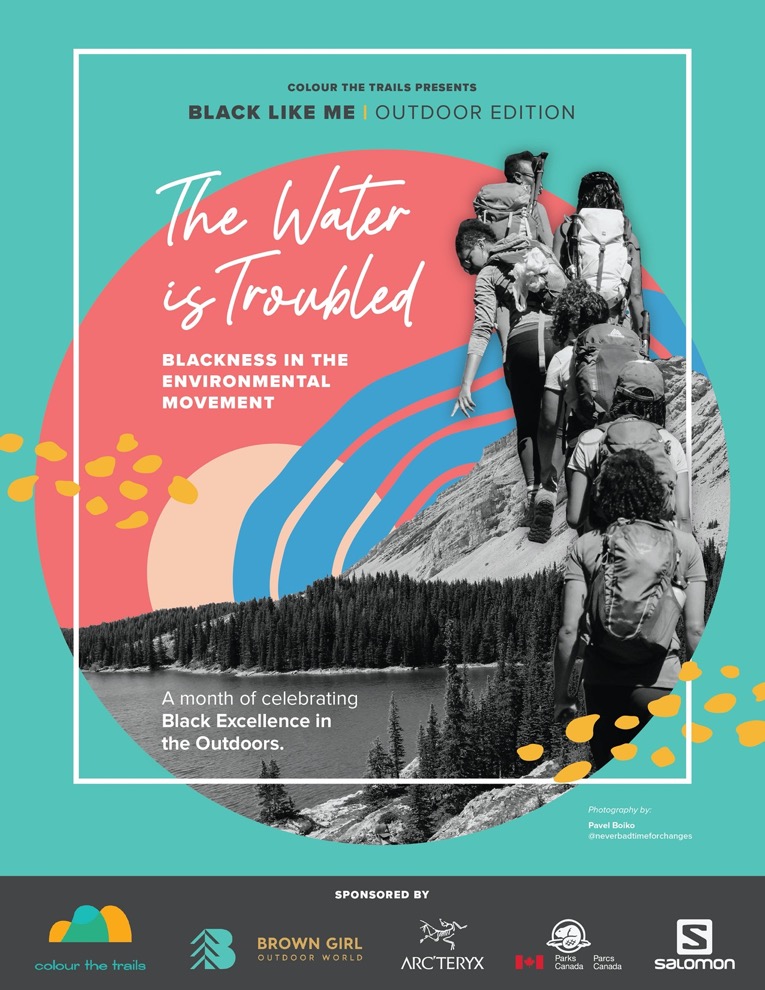 This year's theme is ​​The Water is Troubled – Blackness in the Environmental Movement
Our environment is the conditions of where we live and our connection to that space, while environmentalism is the protection of those conditions. The environment includes more than just wildlife and plants, but when viewed from a Black lens, how people are treated or perceived, beyond diversity and justice should also be considered.
Environmental justice cannot be achieved without racial justice. At the intersection of these two movements, Black folks continue to take charge in spaces and places without needing an invitation, while mainstream environmental justice continues to ignore and exclude the work, expertise, and treatment of Black environmentalists.
Black bodies are not protected by the environmental policies or included in these conversations, and thus, have been left to forge the way to protecting these spaces for our generation and those to come. From saving the turtles to ensuring children have access to clean drinking water and the ability to play safely in a public park, this work extends to all Black lives, globally.
This event invites all environmental allies to hear and respond to the cries against racism and social injustices as loudly as we do as the cry to save the environment.
Panel discussion with Demiesha (@browngirloutdoorworld) on February 23rd at 7:30 pm EST / 4:30pm PST. Please follow our channels for possible updates
Pre-register for the panel:
https://www.crowdcast.io/e/tpl-blackness-in-the-environmental-movement/register
Proceeds will support continuous work of Colour the Trails
We would like to thank our sponsors: Parks Canada, Arc'teryx, Salomon
The "Like Me – Outdoor Edition Film Festival" is a five-part film series that specifically focuses on stories of communities that have been intentionally and historically excluded from outdoor media and storytelling. Our goal is to bring visual representation to the varying intersectional identities through meaningful conversations surrounding outdoor adventure, sports and recreation, and also conservation. Diversity has always been present. Inclusivity, however, has been missing. "Like Me – Outdoor Edition" is not your typical mountain film festival. It's a community space. We know that representation matters. Our role is to visually define that representation is possible.
Stay tuned for our upcoming series:
Indigenous Like Me – Outdoor Edition
Queer Like Me – Outdoor Edition
Fat Like Me – Outdoor Edition
Disabled Like Me – Outdoor Edition
Each film series will highlight the intersectional identities and lived experiences of each group by bringing forth the stories and voices of community activists, filmmakers, adventurers, and everyday people whose work challenges the narrative, writes history, and reimagines our relationship with the land, ourselves, and each other.
Like Me Outdoor Edition – See Ourselves. See Each Other. See Change.